Members of the Fire Standards Board met last month to review the progress since its establishment. Despite the challenging backdrop of the pandemic, the Board are particularly pleased with progress made in publishing nine Fire Standards since February 2021. The visuals below are a reminder of those standards published so far and those in development in the coming months.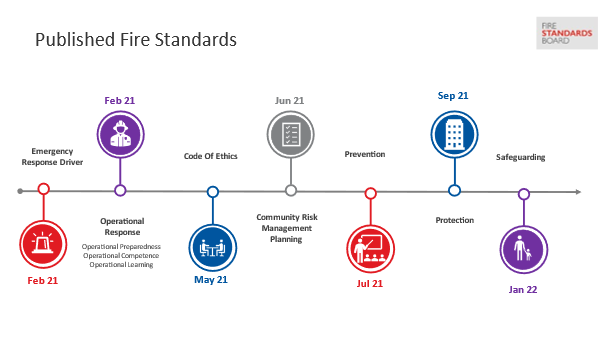 The next Fire Standards due to be released are:
Fire Investigation (March 2022)
Emergency Preparedness and Resilience (May 2022)
Data Requirements and Management (July 2022) Consultation on this standard is expected to commence in March 2022
Leadership and People Fire Standards (September 2022). These Fire Standards are still in development but more time has been allocated to allow thorough peer review and engagement before the formal consultation. Given the nature, breadth and importance to the sector of these Fire Standards, alongside the potential impact of the scheduled Government White Paper on Fire Reform, the Board are keen to ensure all stakeholders have adequate time to engage and comment.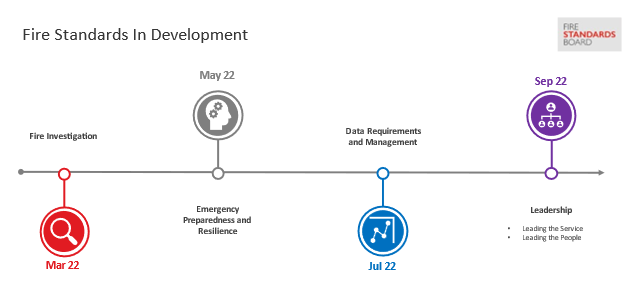 The remaining areas for consideration for Fire Standards are shown below. It is not necessarily the case that each area will result in a standard; but discovery work and research into each area will help to clarify and confirm this which is taking place currently.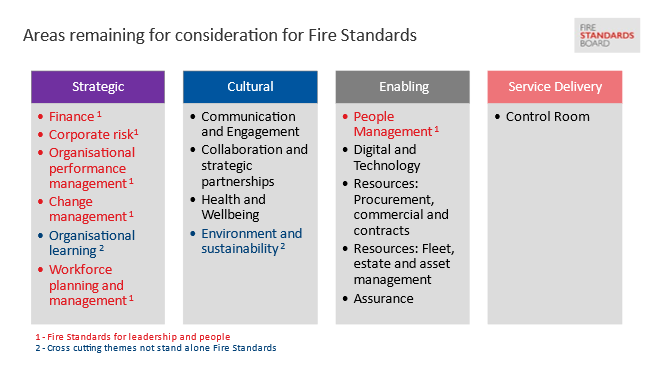 It's anticipated that the full suite of standards will total approximately 20.
Implementation support
The Fire Standards Board, through the NFCC Fire Standards and Implementation Teams, will be continuing to support services as they work to achieve the Fire Standards.
Implementation Tools are available for all Fire Standards, designed to support services in assessing how well they meet the standard; helping them to build action plans to complete those areas where there are gaps.
Impact and Benefits Realisation
The Fire Standards Board are keen to understand the impact of the Fire Standards now that the first standards have been published and will be undertaking engagement activities with services during 2022 to help better understand the impacts and to review progress to date.
Look out for more information about these events coming soon.
Feedback can be directed to us via our Contact Us page